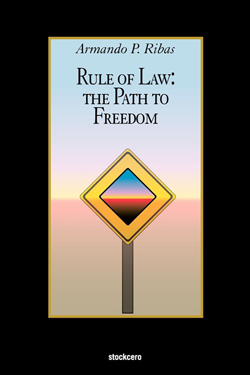 224 Pages - In English


ISBN: 978-1-934768-51-8
Library of Congress Control Number: 2012933039

---
Printed copy: U$ 35.25.- add to cart
Evaluation copy: U$ 22.91.- add to cart
Online access: U$ 9.99.- add to cart

---
There is a great confusion in the world and even more in that part of the world that considers itself as representing the Western civilization. This confusion arises in two realms: the semantics and the conceptual. The first of these confusions is the result of ignoring the ethical and the political philosophy antithesis between the Anglo-American philosophy and the Franco-German one. As Balint Vazsonyi once wrote, they are as different as day and night. At the same time, that philosophical confusion to which Dr Ribas refers as the syncretism of Western philosophy, is the pretentious nirvana of democracy in the West. Conceptually, democracy may be divided in two antithetical systems: the rule of law and the majority rule. Majority rule is the opposite of the protection of individual rights: to life, liberty, property and the pursuance of happiness. In this book Dr Armando P. Ribas exposes the fact that the apparent rights of the majorities are no more than the absolute power of governments in the name of the people, that constitutes the new deity. This is in Aristotelian terms demagoguery, and the reason why democracy fails in Latin America, as it happened in Europe where Hitler and Mussolini represented majority rule as the most common excuse: reason of the state.
---
Armando Paulino Ribas nació en Cuba en 1932. Luego de graduarse en Derecho en la Universi dad de Santo Tomás de Villanueva, en 1960 obtuvo un Master en Derecho Comparado en la Southern Methodist University en Dallas, Texas.

Ese año viajó a la Argentina, donde trabajó en la compañía petrolera Shell y –entre 1967 y 1972– fue Economista Jefe de FIEL.

De 1972 a 1976 se desempeñó como economista en el Fondo Monetario Internacional, en Washington, y a su regreso a la Argentina fue asesor del Ministro de Economía y de la Secretaría de Agricultura.

Entre 1983 y 1990 actuó en política, y fue Diputado Nacional por la UCeDe de Capital Federal.

Actualmente es consultor de empresas y desde 1978 profesor de Filosofía Política en el ESEADE.

Colabora con diversos medios periodísticos, entre ellos La Prensa y El Cronista Comercial, de Buenos Aires; El Pais, de Montevideo, y El Nuevo Herald, de Miami.

Ver más libros.
---
Professional Experience
Private Consultant
Speaker on Political Philosophy and Economics
Advisor to the Minister of Foreign Affairs 1997-1999
ESEADE Escuela de Economía y Administración de Empresas – Professor of Political Philosophy – 1978-onwards
Representative To The Argentine Congress – 1989-1990
International Monetary Fund  Staff Economist – 1970-1976
FIEL Fundacion De Investigaciones Economicas Latinoamericanas – Chief Economist 1967-1972
SHELL – Economist at the Economic Research Department – 1960-1967
Wrote for the following newspapers: La Nación, La Prensa and El Cronista (Buenos Aires); El País (Montevideo); El Nuevo Herald (Miami). Currently writes for La Prensa (Buenos Aires) and El Diariolasamericas (Miami)
---
Education
Columbia University
Economic Studies For Master Degree (1969-70)
Southern Methodist University
Master Of Comparative Law, 1960
Santo Tomas De Villanueva University
Doctor Of Law, 1951 A 1956
Research Work
Banking Crisis And Convertibility - Adeba, 1997
Historical Analysis Of Debt Failures And Repudiations - Citibank, 1988
Official Banks And Argentine Banking System - Adeba, 1980
Books
Los Condicionamientos Eticos De La Libertad  – Favale  2008
Los ´90: Un Nuevo Traspie De Luz Del Día En América Latina – Stockcero, 2005
El Fin De La Idiotez Y La Muerte Del Hombre Nuevo – Editorial Universal, 2005
Argentina 1810-1880. Un Milagro De La Historia – Fundación Bank Boston Y Fundación Bunge Y Born, 2001
Crisis Bancaria Y Convertibilidad – Adeba, 1999
¿Quién Es Occidente? – Atlántida, 1997
Propiedad, Fuente De Libertad – Fundación República Para Una Nueva Generación, 1997
Cuba:  Entre La Independencia Y La Libertad – Editorial Universal, 1994
Entre La Libertad Y La Servidumbre – Editorial Sudamericana, 1992; Stockcero, 2004
El Retorno De Luz Del Dia – Editorial Sudamericana, 1987
Politica Fiscal Y Teoria Monetaria, Un Nuevo Enfoque – Editorial Sudamericana, 1986
El Principe Y El Principito – El Cronista Comercial, 1985
Pensamientos Para Pensar – El Cronista Comercial, 1981
La Inflacion En La Argentina – El Cronista Comercial, 1979
El Rol Del Empresario En La Sociedad – El Ateneo, 1977
Teoria Monetaria, Tasas De Interes E Inflacion – El Ateneo, 1975